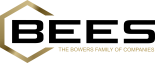 BEES
BEES was originally formed in 1999 as 'Bowers Electrical Engineering Services'. Our focus then was on electrical engineering but as our customers' needs have evolved so has the business. Today we are a nationwide and international specialist in machine control & automation as well as decontamination equipment.
We remain a family-owned business and have grown from a dedicated niche operation to a specialist team deployed across four separate departments. Offering you a complete design, build and maintenance service for all your machinery requirements.
Focused on sharing our expertise across the entire business we understand every aspect of engineering. You receive unrivalled support from experts who have a unique in-depth knowledge and experience. All within the same company.
Based in Northampton with easy access to the main national and international travel routes. This central location is a huge benefit in both the management of our services and delivery to our customers.
Address
25 Lyveden Road
Brackmills Industrial Estate
Northampton
NN4 7ED