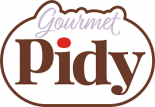 Pidy UK Limited
In 1950 André Dehaeck created a winning puff pastry recipe, which would turn out to be the starting point of a long and successful history.
In his reputated bakery located in the Belgian town of Ypres, Andre Dehaeck developed recipes for bouchees and tartlets, which proved so popular, that within a few years they were being delivered to customers far and wide.
Andre Dehaeck recognized the enormous potential of what he had created, and established the first industrial production site, to meet the ever increasing demands for his pastry shells. PIDY (Patisserie Industrielle Dehaeck Ypres) was born, and over the years has continued to expand through the creation of new ready to fill products based on puffy pastry, sweet short dough, choux pastry and genoise sponges.
Pidy today remains a family business. Our present chairman Thierry Dehaeck has succeeded his father in the every day management of the company, and has accelerated the dynamic expansion of the group, to their eminent position within this very competitive market.
The PIDY GROUP now consists of 3 production sites in three different countries: Belgium, France and the United States. In the UK Pidy has his own sales office. Through our export office, PIDY products are represented in 50 countries worldwide.
Address
Unit 4
Sterling Business Park
Salthouse Road
Northampton
NN4 7EX
Other Details
Category
Food and Drink Production