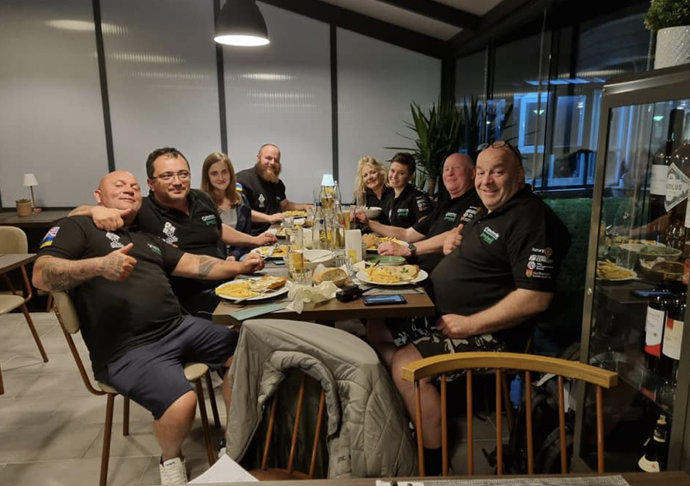 Three vehicles and seven drivers have set off from Northampton to deliver food, clothes and medical supplies to three Polish refugee camps and an orphanage on the border of Ukraine. Our very own BID CEO Sara Homer, along with her daughter Brogan, are part of the trip - both as drivers. Here is Brogan's latest update ...
Friday night: We set off just after 8pm ,,, all was fun on the road with high morale and excitement for the adventure ahead! Exhaustion crept up on us, but we kept focusing on what we were doing, which really kept the team focused on the goal ahead.
Saturday: The sea crossing was nice and quiet and we got to Calais at around 9am on Saturday. The sun shining with perfect weather through and all seven of us had a go driving. This was my first time driving on the other side of the road and driving a 4x4, I was very proud of my efforts and ability to take that on with a car full of goods!
There were expected tensions from tiredness but we all kept in mind what good of a mission we were on. We had a very long day of travelling, driving none sto with the occasional bathroom break. We did face some struggles finding a accommodation to cater for 8 people fairly last minute however did find a great Best Western hotel which. We had a late, last minute dinner at 10.30pm and sampled local German beer - very much needed.
To top off the night we had a lovely Greek waiter, he was full of great spirit and chat, he gave us free shots of Ouzo and took a great group photo.
After a good night's sleep and clearer heads, we are now heading off on our next 10 hour drive to the Polish border to drop off supplies. The weather is warm - another update to follow tomorrow.
Please support this convoy:
To donate products, visit Goodwill Solutions in Deer Park Road between 9am and 5pm, Monday to Friday. Call 01604 422464 on arrival.
There is a dedicated bank account for financial donations. Name Goodwill Solutions CIO, sort code 20-90-08, account number 63993264.