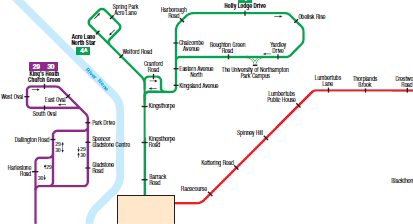 Stagecoach Midlands will be further improving its services to Brackmills Industrial Estate with effect from the 4th September 2017 by:-
a) AM peak service 1 journeys will now via Bedford Road-Lilliput Road-Burryport Road-Kilvey Road to Pavilion Drive rather than direct via Nene Valley Way and Caswell Road.
b) A number of morning peak and late afternoon service 1 journeys from Brackmills and Wootton Fields to Grange Park to offer new direct links from Grange Park to Brackmills-Bedford Road and Northampton General Hospital.
c) On the 4th September a new peak only fast X44 service between Wellinborough-Earls Barton-Bedford Road-Lilliput Road-Burryport Road-Kilvey Road-Pavilion Drive-Gowerton Road Asda will commence.
This service will offer three am peak and three pm peak return journeys a day on Mondays to Fridays.
Please visit www.travelineeastmidlands.co.uk to add your postcode, destination postcode and times of travel to find the best bus services for you.