"Work closely with the Police and others to maintain a safe and secure working environment for freight transport, all vehicles, customers and the people who work on the estate"
Regular projects the BID performs includes:
CCTV and ANPR
In 2009, following a successful application by Northampton Borough Council, Northamptonshire County Council and Northamptonshire Police to the then West Northamptonshire Development Corporation. A network of 12 ANPR cameras and 9 CCTV cameras were installed to monitor the estate's exits and entrances the new HGV bays installed on Gowerton Road in the same year.
The cameras are monitored by Northampton Borough Council's CCTV Control room team at St Johns Car Park in Northampton.
In 2019, Brackmills Industrial Estate BID replaced the 12 ANPR cameras with 6 dual lane digital cameras that can both read Number Plates and pick up a visual of the vehicle.
Did you know – the BID pays for the maintenance and monitoring of the CCTV and ANPR cameras in contract with Northampton Borough Council.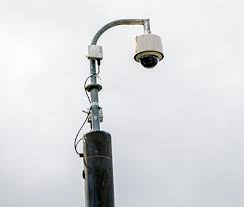 Police Community Support Officer
Since 2011 the BID has contracted a full-time Police Community Support Officer from Northamptonshire Police.
Our officer is called Ian Taylor and he has been working on the estate since 2011.
The PCSO has his own bike and Police vehicle and undertakes pro-active patrols, visits businesses and is available to provide crime prevention support advice.
Our PCSO provides a valuable role in deterring crime on the estate, reporting issues and providing support for businesses on the estate in relation to crime prevention advice.
This summer the van used by the PCSO has been revamped with new liveries.
Did you know – Crime is down to an all time low; 95% reduction in theft to and from lorries between 2008-2018 and reported crime 67% down against pre-2009 levels (145 incidents in 2007). 58 crimes reported for the 2018 calendar year.
Bank Holiday Security Patrols
In addition to the CCTV and ANPR cameras, and the contracted employment of a full-time Police Community Support Officer the BID contracts security officers over bank holiday weekends to ensure there is a manned presence on the estate to help deter crime on the estate.
The additional security officers ensure that suspicious persons and vehicles seen on the estate are reported. In addition to monitoring those businesses units closed or vacant.
Business Watch Alerts
The BID has been issuing Business Watch Alerts to estate businesses since 2010 notifying businesses throughout the estate regarding incidents, traveller encampments or suspicious persons and vehicles.
The regular flow of information helps to deter crime and enable businesses to proactively secure their premises.
New projects being explored by the BID in 2019-2024:
Upgrade of CCTV Cameras
This autumn the CCTV cameras are set to be upgraded throughout the estate, with six new digital cameras that have extended vision field capacity and can work in reduced lighting levels.
Audit of vulnerable locations on the estate
The BID will continue to work with Northamptonshire Police, landlords and businesses to identify weak spots and vulnerable positions on the estate. Identifying solutions that could include additional lighting etc and work with partners to secure funding for making improvements to further deter crime on the estate.