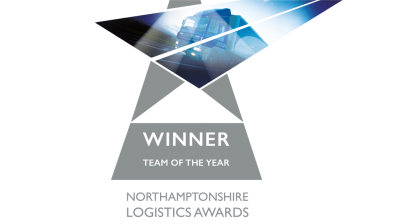 Tickets are now on sale for this year's Northamptonshire Logistics Awards on Friday 20th April.
Join businesses and sponsors at this prestigious event, which will take place at Northamptonshire County Cricket Club at 7pm and celebrate the county's leading logistics organisations, inspirers, apprentices and drivers.
New for 2018 is the Northamptonshire Logistics Awards 'Celebration Corridor' – a collection of striking images and film which highlight the local logistics industry. Businesses that purchase a table at the awards have the opportunity to be included in this new showcase.
Tony Bellott, Chair of the Northamptonshire Logistics Forum said: "We are very excited about the upcoming awards which have become a significant event on the local logistics calendar, and a truly inspiring evening which emphasises the important contribution our county makes to the UK's logistics industry.
"Our twelve awards categories reflect the innovation, talent, success and achievements of individuals and teams working in the sector, and highlight everything that is great about logistics. The stories we will hear on the night will also help encourage more young people to think of logistics as a career option and, with some extra elements to this year's awards, like our new Celebration Corridor and revised bursary scheme to help develop the skills of young people training in the sector, we are all set for another enjoyable event."
There is still time to enter the Northamptonshire Logistics Awards before the deadline of 12noon on Friday 9th March.
To enter or buy tickets or a table, visit the Northamptonshire Logistics Forum website - http://northantslogisticsforum.com/2018awards/
The Northamptonshire Logistics Awards is organised by the Northamptonshire Logistics Forum - a forum facilitated by the University of Northampton and Northamptonshire Growth Hub and made up of representatives from logistics companies county-wide.

The Northamptonshire Logistics Awards 2018 
• Headline sponsor - MHA MacIntyre Hudson
• Innovation - Kuehne & Nagel
• Inspirer in Schools and the Community - Goodwill Solutions CIC
• SME Company of the Year - Wilson Browne
• Apprentice of the Year - LIST 
• Young Person of the Year - PALLITE
• CILT Sponsored Student of the Year - CILT
• Growth Company of the Year - Kingsley Consulting 
• Team of the Year - John Lewis
• HGV Driver of the Year – Linkline Transport
• Achiever of the Year – Brackmills Industrial Estate Business Improvement District (BID)
• Logistics Temp Staff Agency of the Year 
• Chairman's Special Award – Fortec Distribution Network